Maharera Blacklisted Projects List - Description
If you are searching for the Maharera Blacklisted Projects List PDF but you didn't find it so don't worry you are on the right page. MahaRERA, the authority under Real Estate (Regulation and Development) Act, 2016, in Maharashtra, has blacklisted 644 housing projects in the state for not meeting project deadlines. The authority has prohibited them from being sold, advertised or marketed in the state. These projects were supposed to be completed and handed over to homebuyers in 2017 and 2018. Below we have provided the download link for Maharera Blacklisted Projects List PDF.
Even though most of the projects are being developed by local developers, one big name on the list is Lavasa Corporation promoted by HCC whose registration expired in 2017.
Maharera Blacklisted Projects List PDF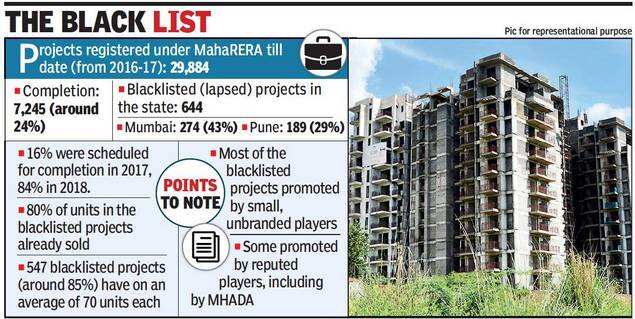 "The validity for MahaRERA registrations for the following projects has expired. The promoter shall not advertise, market, book, sell or offer for sale, or invite persons to purchase in any manner any plot, apartment or building, as the case may be, in any of these projects," MahaRERA said in a recent notice.
As much as 43 percent or 274 blacklisted projects are in the Mumbai Metropolitan Region (MMR), followed by 29 percent or 189 projects in Pune; rest 28 percent or 181 projects are in smaller cities, including Nagpur, Nashik, Kolhapur, Aurangabad, Satara, Ratnagiri, and Sangli, said a report by Anarock Property Consultants.
At least 85 percent or 547 projects are small-sized, with an average of 70 units per project.
"Unfortunately, 80 percent of the units in these 644 projects are already sold out. Of the total 644 projects, 16 percent were to be completed by 2017, while 84 percent had 2018 as their completion timeline," it said.

Anuj Puri, chairman, Anarock Property Consultants, said, "This move by MahaRERA sends out a strong signal to errant developers who have been delaying projects incessantly. Homebuyers have been waiting to get possession since 2017 or 2018. "
Puri said no clarity has been given by MahaRERA on how and when these projects will be completed.
MMR has at least 496 projects (launched in 2014 or before) that are either delayed/stuck as on date, while Pune has nearly 171 delayed/stuck projects.
As of date, 29,884 real estate projects have been registered under MahaRERA in the state, of which 24 percent or 7,245 projects are already completed.
Maharashtra was the first state in the country to implement the RERA Act from May 2017 and set up a RERA Authority. Bureaucrat Gautam Chatterjee was made the first chairman of MahaRERA. In February this year, Ajoy Mehta, the principal advisor to Maharashtra Chief Minister Uddhav Thackeray, was appointed the chairman of MahaRERA.
Maharashtra is the frontrunner with the maximum number of projects and agent registrations, setting a high benchmark for other states to emulate. As of July 4, 2020, Maharashtra saw the registration of 25,604 projects and 23,999 agents.
Housing sales in Maharashtra saw a spurt in the third and fourth quarters of the financial year 2020-21 after the state government cut stamp duty paid on property transactions. It was cut to 2 percent till December last year and 3 percent till March this year.
Another report by Anarock earlier this year said 65,539 cases have been disposed of by state RERAs as of April 24.
Quoting data by the Ministry of Housing and Urban Affairs, it said of these, nearly 40 percent (about 26,510 complaints) were resolved in Uttar Pradesh alone, followed by Haryana with 13,269 cases and Maharashtra (9,265 cases). The three states cumulatively accounted for nearly 75 percent of the total disposed cases under RERA in the country.
Download the Maharera Blacklisted Projects List PDF by click on the link given below.